You Should Address Flatfoot Early to Avoid Complications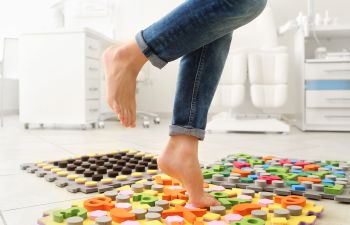 Your feet should have an arch. People with flat feet — also known as pes planus, flatfoot, pronated foot and fallen arches — have little or no arch. Their entire sole touches the earth when standing. The condition can develop over time or be hereditary. There are two versions: rigid flatfoot and flexible flatfoot.
It would be best if you treated flat feet early to avoid surgery. If left untreated, the condition can worsen, cause you to become less mobile, become increasingly painful and eventually lead to arthritis in the ankle and foot.
Flatfoot that Develops Over Time
Abnormal foot growth causes rigid flatfoot. This version can be genetic or induced by a medical condition like cerebral palsy. Adult-onset flatfoot is frequently the result of arthritis, an injury, a sedentary lifestyle and obesity. Therefore, exercise and weight loss, in addition to treatment, may benefit those who develop flat feet due to being inactive and overweight.
Hereditary Flatfoot
Flexible flatfoot is hereditary and, therefore, noticeable at a very early age. Your child may have it. If you notice an arch present when their feet are resting and not bearing weight but gone (collapsed) when your child stands, they have flexible flatfoot. The condition will worsen as they age, so you should address it as soon as possible.
Stuart J. Mogul will perform a complete examination of the feet, evaluate the results to establish the reason and plan a tailored treatment accordingly. In most cases, flexible flatfoot can be treated by non-surgical methods when addressed at this early point.
Pain From Flatfoot
Flexible flatfoot is rarely painful. However, it is possible to experience soreness and pain after participating in sports or physical activity. On the other hand, rigid flatfoot can hurt anytime and make everyday tasks uncomfortable. Severe flatfoot may require surgery to correct and restore foot alignment.
You might be unaware that foot and ankle pain can harm other body parts. This is because the pain causes you to place more stress on other muscles to compensate while walking and standing. This overcompensation results in fatigue, knee and back pain and other problems elsewhere.
Do not wait until flatfoot affects other parts of your body to seek medical attention. If you are suffering from flatfoot, call Stuart J. Mogul to organize an appointment for cutting-edge care today.