Cosmetic Foot Surgery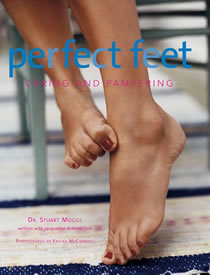 Dr. Stuart Mogul is the recognized national and international leader for cosmetic foot surgery in NYC and has over 30+ years of experience. As a matter of fact, he literally wrote the book on it, Perfect Feet: Caring and Pampering.
In late 1999, Dr. Mogul took a break thru step by introducing what is now considered routine: repairing non painful foot deformities for greatly improved cosmetic outcomes. Although you may hear of other surgeons performing cosmetic foot procedures under various marketing names, it all started with Dr. Mogul. By pioneering new surgical approaches and procedures he gave birth to the first cosmetic sub-specialty in foot and ankle surgery. Dr. Mogul has shared his expertise with other foot surgeons and he is very active in training the next generation of cosmetic foot surgeons.
Dr. Mogul has dedicated a good deal of time to treating patients in Latin America in areas where there is low or no accessible foot and ankle care. He has focused his efforts in Jalapa, Nicaragua, where patients from surrounding villages will travel over one hundred miles to receive his care free of charge.
Feet serve a vital purpose in daily human activity. Those suffering from foot deformities and other physical problems of the foot can tell you how hard it is to carry out everyday tasks without both feet being medically capable of doing so. It's also important not to overlook the aesthetics of well-formed and healthy aesthetically pleasing feet. If you are unhappy about the appearance of your feet or toes cosmetic foot surgery may be right for you.
"Perfect Feet is the one book that offers the combined knowledge of a podiatrist, foot surgeon, and a beauty expert to help everyone achieve gorgeous, healthy, feel-good feet. Our feet work hard for us every day, but we only notice them when they hurt, when summer sandal season comes along, or when the latest fashion in shoes leaves them overexposed and under-supported. Right now, feet are the trendy focus of the beauty and fashion industries. The knowledge, training, and experience Dr. Stuart Mogul has obtained has made him a respected member of the medical community."

~ Amazon
The NYC Cosmetic Foot Surgeon, Dr. Stuart Mogul offers the following cosmetic foot surgery services:
Bone Spurs
Bunions Surgery
Corns Treatments
Crooked Toes
Flat Feet Surgery
Hammertoes Surgery
Heel Spurs Treatments / Plantar Fasciitis Surgery
Neuromas (Morton's Neuroma) Surgery
Toe Shortening
If you have any questions or would like to schedule a consultation please feel free to contact us today.