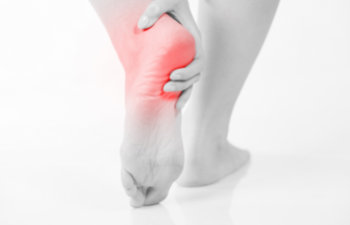 Heel pain can make life miserable. If you have pain shooting from your heels, it can make it hard to do your job, enjoy an active lifestyle or get the exercise you need for better health. Heel pain can be caused by tendon, muscle, bone, fascia, inflammation, nerves and other elements. If you have acute or chronic heel pain, it is vital to see a foot specialist at Stuart J. Mogul, DPM, FACFAS Foot Surgery Center in NYC for diagnosis and treatment.
Possible Causes of Heel Pain
Although it may be your heel where you feel the pain, it is not always in your heel where the issue begins. The muscles in your calf, the fascia in your foot, nerves in your legs and many other factors can result in heel pain. It is important not to assume that it is something that will go away on its own – you may be causing more damage to your feet by not having your heel pain properly diagnosed. Some of the possible causes of your heel pain include the following:
Plantar Fasciitis.

 

One of the most common causes of heel pain is plantar fasciitis, an inflammation of tissue that connects the heel to the toes.
Bone spurs.

 

Heel spurs are boney growths on the calcaneus bone, which can create a stabbing pain when performing activities. This condition can be related to plantar fasciitis.
Tight calf muscles. Overly tight calf muscles can put strain on the tendons attached to the heel, which can cause chronic heel pain.
Nerve compression. Various conditions can irritate or compress nerves that serve the foot, resulting in heel pain.
Fractures. Heel pain may be due to a fracture, often stress fractures in the calcaneus bone.
Degenerative diseases. Changes to the bones, joints and protective tissues in the heel due to aging and degenerative disease can result in heel pain.
Heel Pain Specialists in NYC
Primary care physicians are quick to assume heel pain is plantar fasciitis and may not look deeper into the cause. To ensure you receive an accurate diagnosis for your heel or foot pain and the right treatment, you need to see an experienced podiatrist. Call our team at Stuart J. Mogul, DPM, FACFAS Foot Surgery Center in NYC to schedule an exam with Dr. Mogul for your heel pain evaluation.