Is Your Foot Pain a Sign of An Underlying Condition?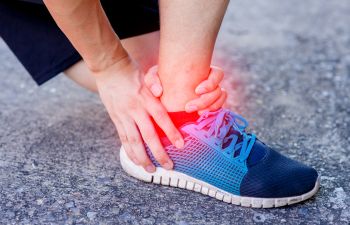 Rolling or spraining the ankle is not an uncommon injury. Twisting your foot can happen during everyday activities like walking or running awkwardly. However, if you engage in sports like soccer, you might consider minor injuries an acceptable risk weighed against the health and social benefits of exercising.
Most sprains do not require medical attention and can be addressed at home by resting, elevating and cooling the affected area. Although uncomfortable when it occurs, you might recover so well that it is difficult to recall how many times you have experienced ankle pain in your lifetime.
Is Recurring Pain a Sign of Sinus Tarsi Syndrome?
In some instances, a sprained ankle develops into a more serious condition. Sinus tarsi syndrome is characterized by severe pain in the front of the ankle. Soreness may develop incrementally or onset suddenly after a period of strenuous activity. You may also feel unsteady when walking on uneven ground such as gravel or grass. In addition, fallen arches, where the sole of the foot rests entirely against the ground, may be present with sinus tarsi syndrome.
Known as the "eye of the foot," the sinus tarsi is a small space between the ankle and heel bone. X-rays are used to confirm increased density in the area, indicating swelling or the growth of bone spurs.
Treatment of Sinus Tarsi Syndrome
Sinus tarsi syndrome is very painful and concerning to experience, as the area of discomfort may not relate to any earlier trauma site. Thankfully, sinus tarsi syndrome responds very well to minimally invasive treatments in most cases. Avoiding strenuous activities while immobilizing the foot with a cast or ankle brace reduces swelling. Supportive footwear or specialized shoe inserts reduces strain on the sinus tarsi to promote healing.
Oral anti-inflammatory medications aid recovery. If this does not work, localized steroid injections provide substantial pain relief. If less-invasive treatments do not provide the desired result, minor surgery removes inflammation and scarring.
Pain anywhere in the foot and ankle is extremely debilitating, and it restricts you from participating in activities you normally enjoy. In addition, you may find the experience stressful, especially if you are concerned that your mobility might be impeded in the long term.
Stuart J. Mogul recommends seeking prompt treatment for foot or ankle discomfort. Contact his New York office today to arrange an appointment.