Is Walking the Dog Hard on Your Feet?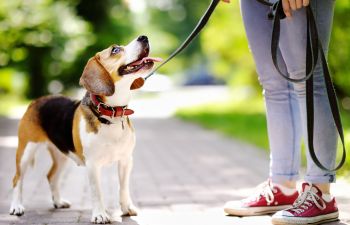 Walking a dog can be a calming and therapeutic activity. However, some of your favorite locations could hurt your feet. For example, some dog walkers prefer manmade paths and parks, whereas others feel more comfortable out in nature. In either case, the surfaces you frequently walk on can impact foot health.
The human foot is relatively robust. Taking care to go slowly and watch your footing, you can walk on most surfaces without issue. It is only when the feet are repeatedly forced to endure uneven or hard surfaces for prolonged periods that problems tend to develop.
Nature Trails
Nature trails through forests or mountains are popular choices for dog walkers. You get to experience the great outdoors while the pup explores new smells and natural wonders. This terrain is usually uneven, with rocks and stones jutting out of the ground. The risk of injuring your foot or ankle increases, so proceed with care.
Uneven ground forces the feet to move and bend in unnatural ways. If you are using nature trails to walk your dog every day, make sure to take rest breaks. Avoiding challenging terrain is also recommended to reduce the risk of injury.
Hard Surfaces
Hard surfaces result in the feet absorbing increased forces while walking. Most dog parks have pathways to create walking routes. If you take your dog out for a long walk, expect sore feet by the time you get home. Over time, hard surfaces can wear down the fatty protective layers on the bottom of the feet.
Connective tissues are exposed and subsequently forced to absorb additional pressures. When you get home and finally relax, the pain in your feet is a good indication that your current route is not ideal. If this pain is new or has worsened over time, you should consider a consultation with NYC Podiatrist Stuart J. Mogul, DPM, FACFAS.
Call our offices today to book a consultation. We can provide relief from all your dog walking foot pain. Dr. Stuart J. Mogul, DPM, FACFAS, advocates minimally invasive treatments in New York.