How to Prevent Common Foot Conditions This Winter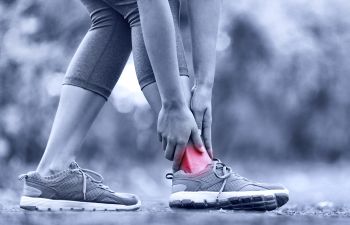 As winter approaches, aches and pain in your feet can increase and make it difficult for you to participate in daily activities. Many foot conditions can be prevented or mitigated with proper care. Here are the top three common foot problems during winter and what you can do to help minimize your discomfort.
Athlete's Foot
Foot conditions like athlete's foot can happen when you bundle your feet in heavy socks and shoes during the winter. Keep your feet clean and dry and wear proper fitting shoes. You can help prevent fungal infections by soaking your feet in Epsom salt and warm water. Wool socks can help your feet stay dry by wicking away excess moisture. Make sure to inspect your feet daily and make an appointment with a foot specialist if you notice any signs or symptoms.
Sprains and Fractures
Ankle sprains and foot fractures are foot conditions that happen from slips and falls on snow or ice during the winter. Wear non-slip boots while shoveling snow to protect yourself from injury. Walk slowly with shorter strides while paying attention to icy patches. Wipe your feet before going indoors to prevent falling on slippery surfaces.
Foot Nerve Pain
The cold temperatures and harsh environmental factors can lead to foot conditions like neuroma that create nerve tissue damage and pain. Common symptoms include tingling and burning sensations between the toes. If you are diabetic, cold weather can aggravate neuropathy symptoms. Keep your feet warm and exercise your feet on a daily basis to boost circulation. Discomfort may be relieved with the use of over-the-counter anti-inflammatory pain medication.
Expert Care for Foot Conditions in New York City
Winter weather can be hard on your feet and being proactive with prevention can help you stay healthy all season long. If you are experiencing pain from foot conditions, it is vital to seek prompt medical attention. If left untreated, symptoms can worsen and lead to permanent damage. As a premier foot and ankle surgeon in New York, Dr. Stuart Mogul can help you prevent and treat many common foot conditions to achieve better overall health. Call to request a consultation today.