How to Care for a Sprained Ankle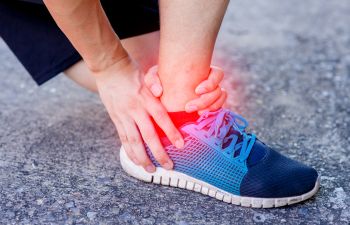 Sprained ankles can really hurt. When you accidentally twist, roll or turn your ankle during a fall or a misstep, ligaments in the ankle extend beyond their normal range. Ligaments offer strength and stability to our joints, so if they stretch or tear, it can lead to difficulties walking or exercising.
Symptoms of a Sprained Ankle
The most common symptoms of a sprained ankle include pain, especially when standing, tenderness, a reduced range of motion and swelling. A grade 1 ankle strain usually doesn't cause bruising and there isn't much instability or pain. This suggests some minimum stretching, but no tearing. A grade 2 strain results in moderate pain, some joint instability, a loss of range of motion and increased pain while standing or walking. This suggests a partial ligament tear. In most severe cases, a grade 3 sprain includes severe pain, instability and an inability to stand or walk. A grade 3 strain signifies a full tear or rupture.
If the ankle joint appears deformed, if there is extreme pain, tingling or paralysis, seek medical help immediately.
How to Treat a Sprained Ankle
Many sprains can be treated at home. The first 72 hours can make all the difference, and can prevent the injury and the pain from worsening. Most healthcare professionals suggest the R.I.C.E. protocol.
Rest: Avoid putting weight on the ankle and walking as much as possible. However, continue to do simple stretches and isometric movements, unless they cause pain.
Ice: Apply ice to the strain to reduce inflammation. Limit applying ice to the area to 15 minutes every 1 to 2 hours.
Compression: Elastic bandages can help to reduce swelling and increase joint stability. Make sure that the bandage is tight, but not so tight that it causes numbness or tingling. Remove bandages at night.
Elevation: Keep the ankle elevated. This can reduce pain and swelling. You can use a pillow to prop up your leg at night.
You can also take paracetamol (also known as acetaminophen or Tylenol) and over-the-counter anti-inflammatory gels or creams such as ibuprofen or naproxen.
Moderate strains may require more time to heal with grade 2 sprains often taking up to 6 weeks to recover. If the pain continues to worsen, or if you aren't seeing any improvement after several weeks, seek medical advice.
If you have foot or ankle pain, functional issues or any visible abnormalities, make an appointment with Dr. Stuart Mogul by clicking here or call us at (212) 769-0066. We will be able to identify the cause and suggest the best treatment possible.