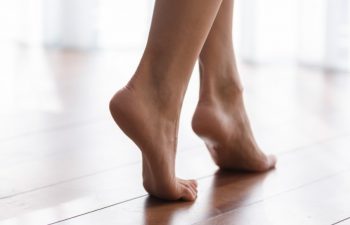 The past year was the first time in years that many people have had to slow down. Americans live hectic, busy lives. Even as we get closer to our new normal, some things will probably not change much. When the day comes that we can finally be free from isolation, chances are we will resume our ultra-busy lives. But when it comes to healing an injury of the foot or ankle, we must learn to ease up, slow down and allow the healing process to do its work.
Chronic Ankle Problems
A minor sprain may not be cause for alarm. RICE therapy (Rest, Ice, Compression and Elevation) generally works to relieve the swelling and inflammation. Acetaminophen or ibuprofen generally take away the pain. Once the pain and swelling are gone, you are up and at it again – until the next sprain occurs. You may not stop to think that the original sprain was not completely healed before you resumed your regular routine.
It can be very challenging to sit still and heal when you do not feel pain or discomfort. A minor ankle sprain usually heals in one to three weeks with conservative treatment. A moderate sprain can take three to four weeks, and a severe sprain can take up to six months to heal. Your ankle will not be hurting every day that you are in recovery. There will come a time, most likely sooner rather than later, that your ankle will initially feel fine, so you will be tempted to get back on track.
If you do not allow sufficient healing time, you run the risk of creating chronic ankle problems. Many athletes experience this. They feel fine to play, without realizing their body is not completely healed. When the ankle does not heal completely, you run the risk of slowing the healing process or causing further damage.
Follow Instructions
When you seek medical attention for your sprained ankle, your doctor will make recommendations and provide you with information for efficient healing. You may need to rest and stay off your foot for a while, do exercises to help the healing process and take it slow getting back to your usual level of activity. Your best bet is to follow your doctor's instructions even if you start to feel better and think you can move ahead.
You will be much better off allowing your ankle to heal completely. The alternative is to risk injuring it again, which will set you back even further. Take care of your feet and ankles because they need to last for the rest of your life.
For excellent treatment when you experience foot or ankle pain, contact Dr. Stuart Mogul, board certified foot and ankle surgeon.