Do You Need Bunion Surgery?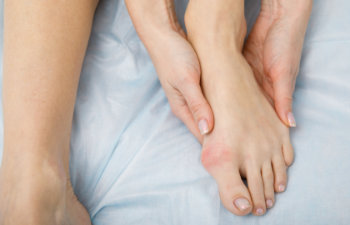 Unsightly growths on your feet can be uncomfortable and interfere with your ability to walk with certain shoes. Bunion surgery can correct these deformities with minimal time away from work and your favorite daily activities. Here are three factors to consider when deciding to have bunion surgery.
Overall Physical Health
Cosmetic surgery can lead to complications for certain individuals with underlying health conditions. If you are experiencing little foot pain, you may want to consider alternative forms of treatment. Bunion surgery can worsen symptoms for individuals with arthritis, diabetes or heart disease. Before you can become eligible for this cosmetic procedure, a foot surgeon will need to perform a comprehensive medical exam and review current medications you are taking.
Lifestyle Changes
After bunion surgery, you may need to make certain lifestyle changes to protect your feet. These changes may include wearing different types of shoes or using crutches for a short period of time after surgery. High heels and shoes with pointed ends can increase your risk for developing bunions and other foot deformities. You may need to change certain activities you participate in to avoid bunions in the future. After surgery, you may need to wear orthotics or wider shoes to prevent recurrence of your foot pain.
Bunion Surgery Expectations
It is vital to have realistic expectations regarding foot bunion surgery. These deformities may affect your self-confidence and your health if left untreated. You may want to consider this surgery if you are experiencing significant pain and desire to improve the appearance of your foot. There may be some scarring and will need to follow specific aftercare instructions from your surgeon.
Are You an Ideal Candidate for Bunion Surgery?
If you are concerned about having bunion surgery, you may want to speak to an experienced professional about your options. Renowned surgeon Dr. Stuart J. Mogul can correct your bunions using minimally invasive surgical and nonsurgical treatment solutions for long term relief. During a consultation, Dr. Mogul can address any questions or concerns you have and recommend the best treatment plan for your needs. To discover if you are an ideal candidate for bunion surgery, call to request a consultation appointment today.