Common Causes of Sports Foot Injuries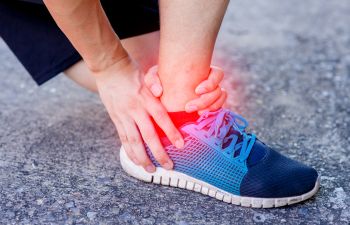 When it comes to foot injuries, the causes are much the same for athletes as the average person. The main difference is that injuries are more prevalent in athletes due to the nature of sporting activities.
Pinpointing the exact cause of a sports foot injury can prove difficult. When an individual is performing a number of actions at the point of injury, there are several body mechanics at play. However, an experienced foot and ankle surgeon can perform a thorough exam and offer effective treatment.
Overuse
In a large percentage of cases, overuse of the foot and ankle is the most likely cause of injury. Torn tendons, overstretched ligaments, wear and tear of muscles and joints and fractures are just some examples of common problems from intense sporting activity.
Many athletes have a tendency to train through injuries in the hope that the issue will pass. This approach is not recommended, as it may exacerbate the injury. A consultation with Dr. Stuart Mogul will put New York patients on the first step toward recovery.
Poor Training & Form
If your training and form is not suited to the sporting activity, it may lead to injuries. How you move and use your feet will impact on stability, strain and the forces applied to tendons, ligaments, muscles and bones. Proper form is crucial in any sporting activity for overall well-being.
Dr. Stuart Mogul has the training and experience to recognize injuries caused by poor training practices. At his New York offices, he can provide excellence in diagnosis and treatment to strengthen and stabilize the affected foot.
Accidental Injury
Despite the best efforts of trainers and athletes, accidental injuries do happen. Such injuries usually result from a trip, fall or collision with another athlete. Typical accidental injuries include sprains, tissue and muscle tears and foot or ankle fractures.
If you have suffered a foot or ankle injury while taking part in a sporting competition or practice, call the offices of Stuart J. Mogul, DPM, FACFAS to book an appointment in New York today.