Afraid to Show Your Feet This Summer?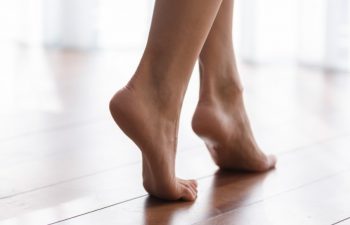 The arrival of summer heralds a lot of things many of us anticipate with joy. Trips to the beach, hiking in the mountains or getting away from it all on a summer vacation are sure to be at the forefront of our minds. Even if not, the increased temperatures will mean putting away that winter wardrobe in favor of airier, cooler clothing.
For some of us, the anticipation can be tarnished with trepidation as we face showing our bare or nearly bare feet. Wearing more revealing footwear such as sandals or flipflops will show much more of the foot, including the toes and heels. Relaxing by the pool or on the beach will expose bare feet to any onlookers. If your feet are not as aesthetically pleasing as you would like, this can really dampen summer fun.
Conditions That Affect the Appearance of the Feet
Bunions are a common issue that make the feet look undesirable. A bunion is a hard lump that protrudes from the side of the foot and can cause the big toe to turn inward. This can significantly alter the visual appearance of the foot. A bunion can also cause further complications to the aesthetic appearance of the foot, including causing hammertoe to develop. Hammertoe results when the small muscles of the second, third or fourth toe are changed. This causes the toe to curl up on itself, and is said to look similar to a hammer. The condition is quite noticeable, but easily corrected.
Aside from the foot itself, issues with the toenails can be embarrassing and give an unhygienic appearance. Toenail fugus can cause the toenail to turn an unsightly yellowish-brown color. The nail will also thicken unattractively. If left untreated, it can also cause the nail to begin to crumble. If you have symptoms of foot fungus, seek help now with Doctor Stuart J. Mogul DPM, FACFAS.
Professional Foot Care in New York
If unsightly conditions affecting your feet are giving you anxiety about enjoying summer, contact Doctor Stuart J. Mogul DPM, FACFAS today. Working from his surgical practice in New York, New York, he will apply his 23 years of experience to have you stepping out with confidence.